Plumbtrax specialise in a range of pipe rehabilitation and extreme access CCTV services across Melbourne. Some of our main installation services include: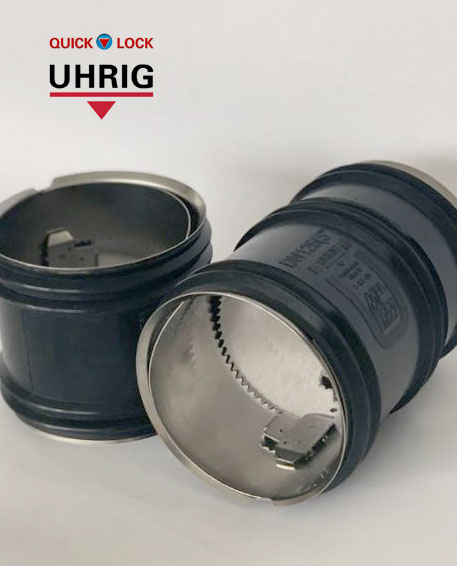 UHRIG Quicklock
For many years, the Quick-Lock system has been used successfully as a repair system for trenchless rehabilitation. Quality and sustainability are the basis of our development and production. The positive long-term experiences of clients and Quick-Lock installation partners throughout the world ensure local patch repair at the highest level for you too.
The Quick-Lock system seals and stabilises damage completely by mechanical means, without any chemicals and is suitable for all pipe materials
The patented locking system ensures that the sleeve stays permanently in position
After rehabilitation, the sleeve has its own static capability and absorbs the natural tectonic movements of the pipes
For repairs in longer damages the Quick-Lock sleeves can be consecutively installed in series
The materials used, V4A stainless steel and EPDM rubber, have proven their reliability for decades in the area of pipeline construction. The stainless steel with its material quality 1.4404 (316L) is practically indestructible for an almost unlimited period of time when used in sewer network under normal conditions.
Trelleborg Epros Lining
In trenchless rehabilitation methodology, a general distinction is made between sectional or part repairs by means of patch or short liners and complete renovation of sewers and pipe runs using the cured-in-place pipe lining techniques. The sectional repair of non man-entry sewer lines with the help of short liners has established itself as a sophisticated economical and technical alternative to traditional repair techniques with digging.
This method is meanwhile a proven economical method for extending the remaining service lives of pipe runs in need of spot repairs until full-scale renovation will be required. A basic condition is that the materials used in sectional repairs are suitable for this type of application and that the installation process meets stringent quality criteria.
The following description of the epros®DrainMtH System is intended to ensure safe application of this repair method, avoidance of errors and achievement of highest quality standards.
UV Cipp Lining
Sewer rehabilitation using iMPREGLiner and UV curing is one of the quickest and most cost-effective rehabilitation procedures available on the market. Up to three pipes per day can be rehabilitated with the iMPREGLiner and put back into operation directly thereafter. The UV curing is notable due to high energy efficiency and thus preserves the environment. A major advantage of the UV technology is that the liners manufactured at the factory can be stored safely at normal temperatures of approximately 25 °C without special cooling and thus allow a great deal of flexibility with the job-site planning.
Compact and energy efficient installation equipment allows interruption-free execution of construction work both in municipal areas with heavy traffic and industrial areas where space is narrow.
The complete monitoring and logging of the installation process is far superior to that of other technologies.
Certified product manufacture and execution on the job site monitored by a third party make the UV technology the leading technology in trenchless sewer rehabilitation in the future too.
CCTV Pipeline Inspections and Confined Space Entry
Plumbtrax utilises the latest IPEK ROVION CCTV pipeline inspection equipment, which can survey pipe diameters 150DN up to 3000DN, We then provide our clients with a full inspection report undertaken using WINCAN software.